This pickle martini recipe is super simple and offers a new and unique way to enjoy cocktails. Thanks to its super savory flavor, you might never go back to olives when making martinis!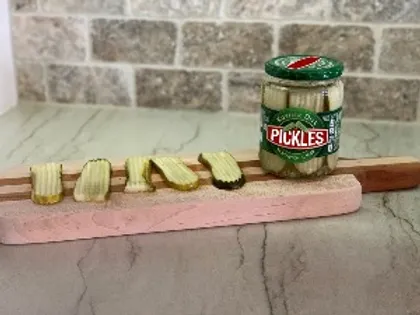 If you love pickles, you know that it's a love which cannot be explained to anyone who doesn't share your passion for the fermented treat. You've also probably found that very few people will say they find pickles to be just "okay"; when it comes to pickles and by extension pickle juice, it's a love or hate relationship with little in-between.
For those with friends and family who are a bit squeamish about the idea of drinking pickle juice, you may want to forewarn them that our pickle martini recipe combining pickle juice and vodka is coming and it's good enough to keep around!
Whether you call it a Pickletini, a pickle juice cocktail, or a dirty pickle martini, this mixed drink is a perfect way to get more pickle juice in your life and to have a little fun while you're at it.
Our pickle martini recipe is made with our very own JT Meleck Handcrafted Louisiana Rice Vodka. We think that using JT Meleck Vodka for this recipe is a must because of the unique flavor and texture imparted on the drink by our vodka made from Louisiana rice.
Don't take our word for it though, if you love trying new things and find yourself in a pickle about what to try next (sorry, we had to) look no further than this one-of-a-kind pickle martini.
Pickle Martini Ingredients
How To Make a Pickle Martini
Combine JT Meleck Vodka, pickle juice, and ice into a shaker and shake twice.
Pour contents of the shaker into a pre-chilled martini glass, add pickle garnish, and enjoy!