Our first Countdown to 21 cocktail is from Tsunami Sushi in Downtown Lafayette.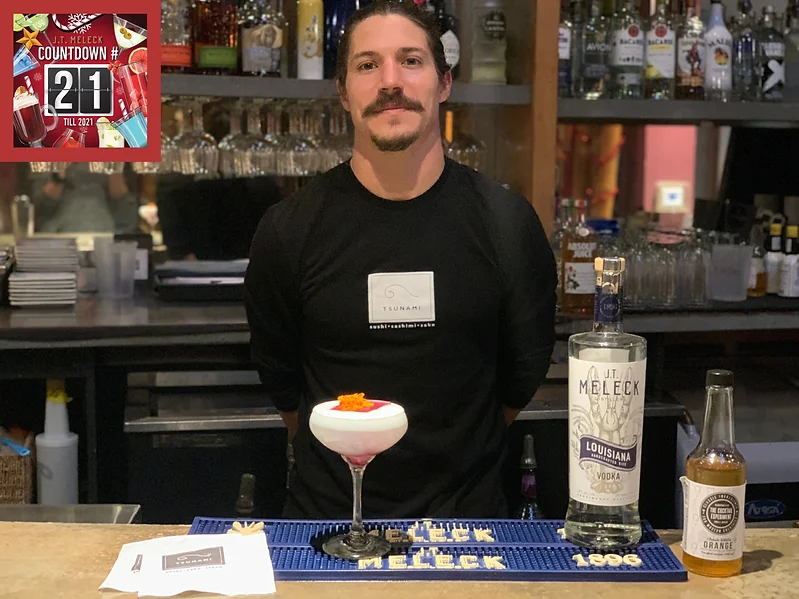 During a recent visit, we got a sneak peek at one of Tsunami's latest drink offerings created by bartender Logan Sonnier. The cocktail is so new that at the time of our visit, it had yet to be given a formal name but we've since learned that it's been dubbed "Twenty21" in commemoration of the upcoming new year.
While making the Twenty21, Sonnier explained that he came up with the drink while looking for something that would go well with their "Frozen Petals" ice cube featuring a purple block of ice with a hibiscus flower frozen within. As the ice melts, it imparts a purple tint into the cocktail and changes the flavor profile of the drink as it's being enjoyed.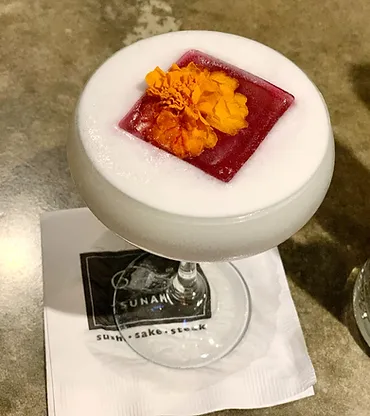 Made with JT Meleck Vodka, Triple Sec, an egg white, orange bitters, and a Frozen Petals ice cube, the Twenty21 is delightfully refreshing and dynamic, beginning as a basic vodka
martini with a hint of citrus before developing a hibiscus flavor as the Frozen Petals ice cube melts.
We were curious about what other mixes Sonnier recommended, and he told us that his favorite drink to make for friends is his own version of a Bee's Knees cocktail featuring a smoked salt rim and ginger.
"[The Bee's Knees] is my favorite because I love honey, lemon, and ginger together—it's a great combo and the smoked salt makes for a perfect sweet to salt ratio."
Tsunami has locations in Downtown Lafayette, Downtown Baton Rouge, and Downtown New Orleans. Each location offers its own upscale and unique atmosphere with a menu that will suit any pallet thanks to offerings including sushi, steak, salads, Bento boxes, desserts, and a wide selection of wine and cocktails. If you're looking to try something new in 2021 or want to enjoy the familiar experience of this sushi and steakhouse restaurant, be sure to check out Tsunami!
Be sure to check out our video of Logan making the Twenty21 cocktail below!
About JT Meleck's Countdown to 21
This December, we embarked on a journey that took us across the state to 21 Louisiana-owned restaurants and bars serving JT Meleck Vodka. At each location, we documented a signature cocktail from their menu to come up with a list of 21 cocktails to help us count down the days to 2021. Beginning Friday, December 11, 2020, we'll be featuring a different restaurant and cocktail each day on the JT Meleck website and posting it on our Facebook and Instagram feed.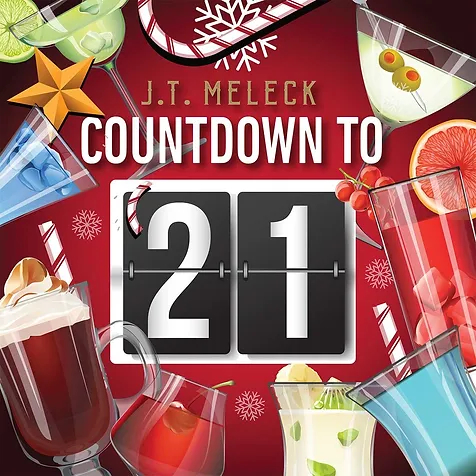 We want to invite everyone to count down the days to 2021 with us and participate in our Countdown to 21 contest on Facebook and Instagram for a chance to win a grand prize trip for two to our distillery in Branch, Louisiana — with complementary overnight stay at a nearby lodging location, dinner at a local restaurant, and transportation between the distillery and your hotel!
To participate in the Countdown to 21 contest, we're inviting everyone to get creative and post a picture of themselves on Facebook and/or Instagram enjoying one of the 21 cocktails we're featuring using the hashtag #jtmeleck and tagging JT Meleck Distillers in the post.