Cocktail #20 on our Countdown to 21 is from Fezzo's in Scott.
Fezzo's Seafood, Steakhouse, and Oyster Bar is a long-time favorite of locals and tourists alike looking for great Louisiana seafood and steak as well as specialty dishes including frog legs and alligator.
We stopped by the Fezzo's location in Scott and met one of their bartenders who also happened to be named Scott. He made us an Acadiana Mule in a copper mug and did a spectacular job! We asked what his favorite drink to make for friends was and he told us that he enjoys making a classic Old Fashioned.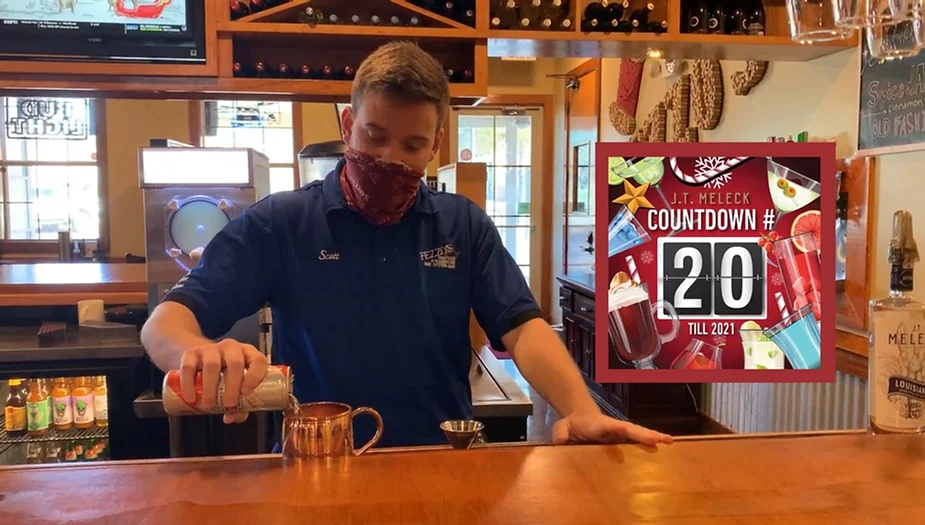 Recently, Fezzo's has ramped up their social media and online presence. Their website features an online ordering portal and their smartphone application can be used to place orders for pickup and make reservations. Follow Fezzo's on Facebook to see all of their food and drink specials including BOGO Martinis every Tuesday and their ribeye special every Thursday.
According to the Fezzo's website, the name "Fezzo's" came about when owner Phil's father was a young boy who was very creative with his toys. His favorite toys were those that he made with his mother's empty wooden spools of thread and he brought his spool toys with him everywhere he went.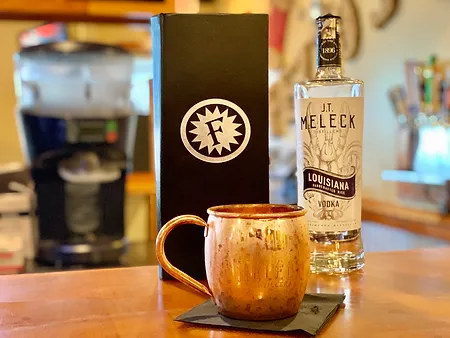 One day, the local postmaster began calling Phil's father "Fezzo", the Cajun word for these wooden spools, and the nickname stuck.
In July 1999, twenty years after Phil's family opened a grocery store called Fezzo's Supermarket, Phil and Pat opened their first restaurant and decided to name it Fezzo's Seafood, Steakhouse, and Oyster Bar in honor of Phil's dad.
Be sure to check out our video of Scott making the Acadiana Mule cocktail below!
About JT Meleck's Countdown to 21
This December, we embarked on a journey that took us across the state to 21 Louisiana-owned restaurants and bars serving JT Meleck Vodka. At each location, we documented a signature cocktail from their menu to come up with a list of 21 cocktails to help us count down the days to 2021. Beginning Friday, December 11, 2020, we'll be featuring a different restaurant and cocktail each day on the JT Meleck website and posting it on our Facebook and Instagram feed.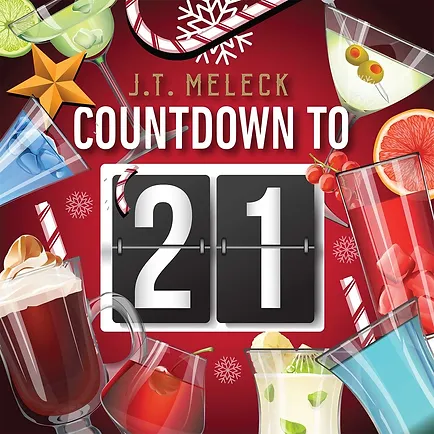 We want to invite everyone to count down the days to 2021 with us and participate in our Countdown to 21 contest on Facebook and Instagram for a chance to win a grand prize trip for two to our distillery in Branch, Louisiana — with complementary overnight stay at a nearby lodging location, dinner at a local restaurant, and transportation between the distillery and your hotel!
To participate in the Countdown to 21 contest, we're inviting everyone to get creative and post a picture of themselves on Facebook and/or Instagram enjoying one of the 21 cocktails we're featuring using the hashtag #jtmeleck and tagging JT Meleck Distillers in the post.