Cocktail #15 on our Countdown to 21 is Trapp's Cherry Limeade.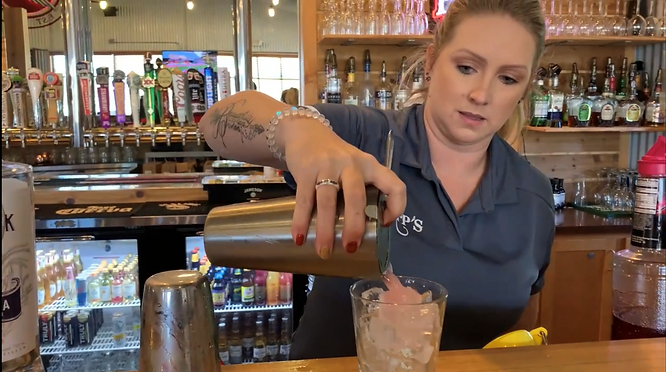 We had a great time meeting Tonya at Trapp's
With ten years of experience under her belt, bartender Tonya at Trapp's Restaurant in Broussard is a veteran when it comes to serving up a good time.
We got to meet Tonya when we visited Trapp's Restaurant to learn about the restaurant's signature cocktail made with our very own JT Meleck Vodka.
When we asked what her favorite drink to make for friends was, she was quick to reply, "Chocolate Martinis…I make them at the house all the time!" She also let us in on her number one tip for making great cocktails, which is to always use fresh ingredients.
Being passionate about making drinks is one of the things that makes a bartender great, and we definitely saw that passion shine through when Tonya made us a Trapp's Cherry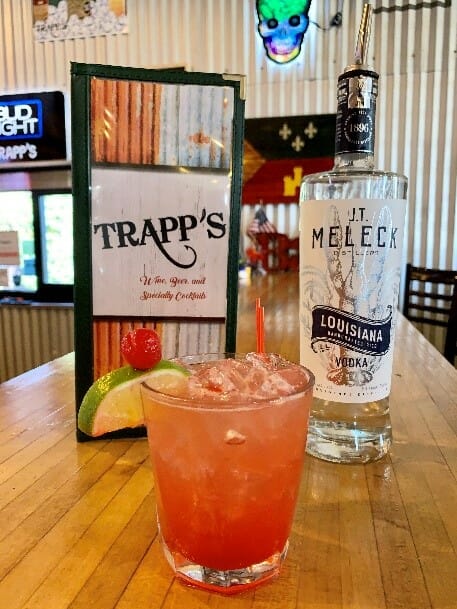 Limeade. Made with JT Meleck Vodka, Sprite, cherries, cherry juice, grenadine, and fresh-squeeze lime juice, the cocktail was familiar, refreshing, and demonstrated the benefit of fresh ingredients thanks to the lime juice that Tonya squeezed for us while we were at the bar.
Tonya told us that Trapp's Cherry Limeade was created at the restaurant's first location in West Monroe, Louisiana. We were curious when we learned that the restaurant originally opened in North Louisiana, so we visited their website to find out more.
Trapp's Restaurant in West Monroe is a "Cajun food restaurant located on the beautiful Ouachita River." Their story begins way back in 1898 when Bernard Trappey created a hot sauce recipe and embarked on an exciting new business venture with his 11 sons. After agreeing to let a cigar salesman help sell their hot sauce, the business was propelled to a whole new level and is now sold nationwide and around the world in South America, Mexico, Europe, and Japan!