As of January 6th, the Mardi Gras season is officially here, and we couldn't be more excited that it's finally that time of year again!
While this year's Mardi Gras may be a bit different, we here at J.T. Meleck Distillers have decided that we aren't going to let current events stop us from having a (safe) good time.
The holiday is commonly associated with king cakes, Mardi Gras balls, and purple, gold, and green decorations, but we wanted to add our own flair to this year's celebration so we came up with a king cake shot that brings some of our favorite flavors into a Mardi Gras cocktail.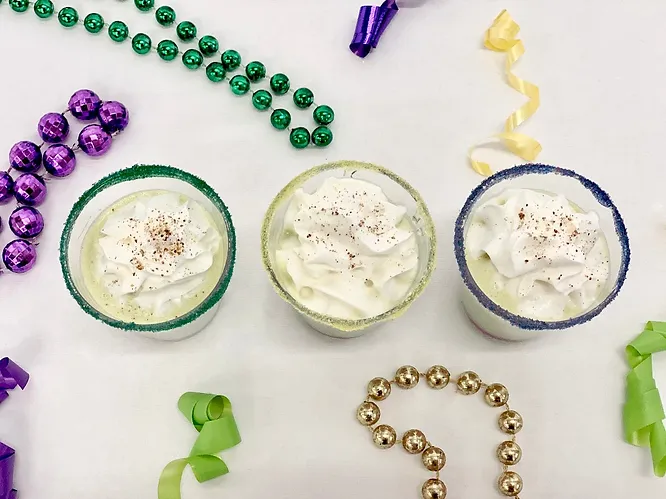 Carencro Carnival Shot
Finally, we decided to name it the "Carencro Carnival Shot" because the final product is strong yet sweet and it reminded us of two of our favorite JT Meleck team members that grew up in Carencro, Louisiana.
Carencro Carnival Shot Ingredients
6 oz. J.T. Meleck Vodka
4 oz. Irish cream
2 oz. cinnamon schnapps
5 oz. king cake ice cream
Purple, yellow, and green sprinkles
Corn syrup
Whipped cream
Nutmeg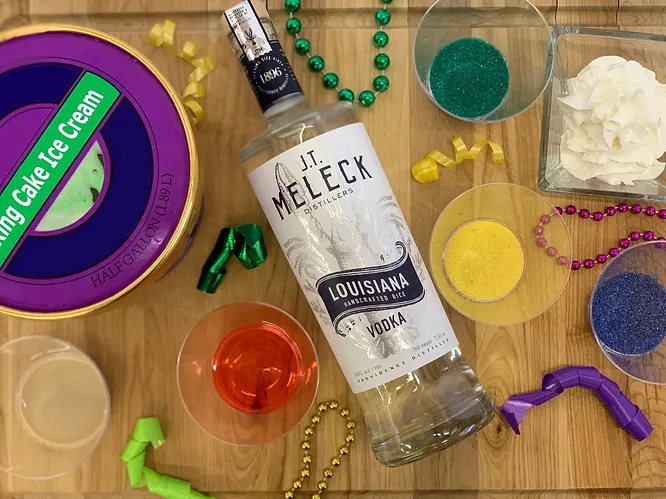 Carencro Carnival Shot Ingredients
Carencro Carnival Shot Directions
Combine J.T. Meleck Vodka, Irish cream, cinnamon schnapps, and king cake ice cream into a blender.
Blend for approximately 20 seconds until ingredients are well combined.
Rim serving glasses with corn syrup then dip into sprinkles.
Pour mixture into serving glasses, top with whipped cream and a pinch of nutmeg, serve immediately, and enjoy!
Makes approximately four 4oz. servings.
Pro Tip(s): Avoid using green portions of the king cake ice cream as it will tint the final cocktail. The cinnamon schnapps was a little strong, so we lowered the amounts used in the published recipe and suggest experimenting to get the proportions to your liking.