It's often said that one of the best things about living in Louisiana is the strong culture we enjoy which flavors the lives we lead. We love sharing good times and good food, and Mardi Gras is one of our favorite things about Louisiana to share with other Louisianians as well as friends, family, and tourists near and far.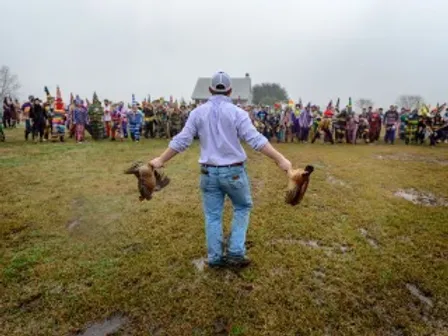 One of our values as a Louisiana company is to do the most possible for the preservation and celebration of Louisiana's vibrant culture.
Pursuant to this goal, we wanted to learn more about and share the traditions and foundations of Louisiana Mardi Gras. Our distillery is located less than five miles from one of the more famous Mardi Gras celebrations, the Courir de Mardi Gras in Church Point, Louisiana, so we sat down with the capitaine (French for captain) of the event and got to hear about the courir from someone with firsthand experience.
Capitaine Troy Richard has been the leader of the Courir de Mardi Gras in Church Point for close to 20 years, and he told us how the courir came to be: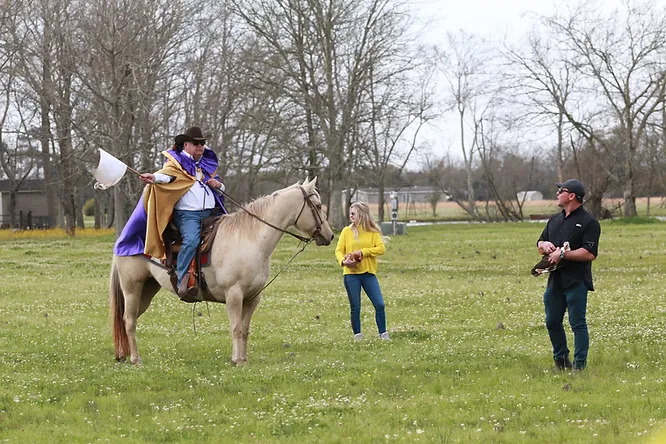 Capitaine Troy Richard of the Courir de Mardi Gras in Church Point
"French heritage history was to celebrate Fat Tuesday, the day before Ash Wednesday, by mocking royalty and politicians, letting loose, and having a good time with a big celebration on the day before the first day of the Lenten season. Acadians brought these traditions to South Louisiana following Le Grand Dérangement," Richard told us.
As the activities of Fat Tuesday involved mocking people in power and engaging in behavior that might be frowned upon by the community, participants would conceal their identity by dressing up in a capuchon in order to avoid any retribution.
The courir (french for run) was organized to collect provisions for the day's celebrations, and participants of the courir are referred to as "a Mardi Gras". The Mardi Gras would travel as a group on horseback and on foot to farmhouses around their community where upon arrival the capitaine would ask the homeowner if he would accept the Mardi Gras.

If the homeowner accepted, the Mardi Gras would then put on a show and act crazy to entertain the homeowner by dancing, singing, and/or acting as they begged for something that would contribute to the celebration planned for later in the day.
Common items to receive included sausage, eggs, rice. moonshine, and sometimes money. If the homeowner had a chicken that no longer layed eggs or a rooster that was particularly mean, the homeowner might tell the Mardi Gras that they can have the bird for a gumbo if they could catch it.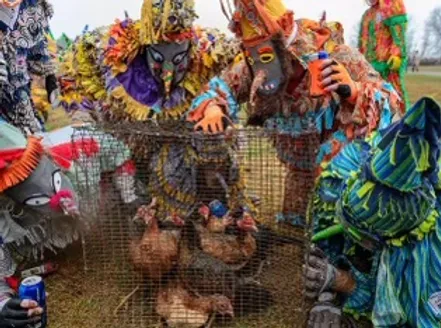 After the run, the Mardi Gras come together with their wives and children for the main celebration of the day which included cooking a gumbo with the ingredients they received on the run, drinking, and dancing.