This cocktail combines the dangerously smooth taste of JT Meleck Vodka with strawberry puree, lemonade, and mint to create a refreshing drink that's perfect for summer sipping.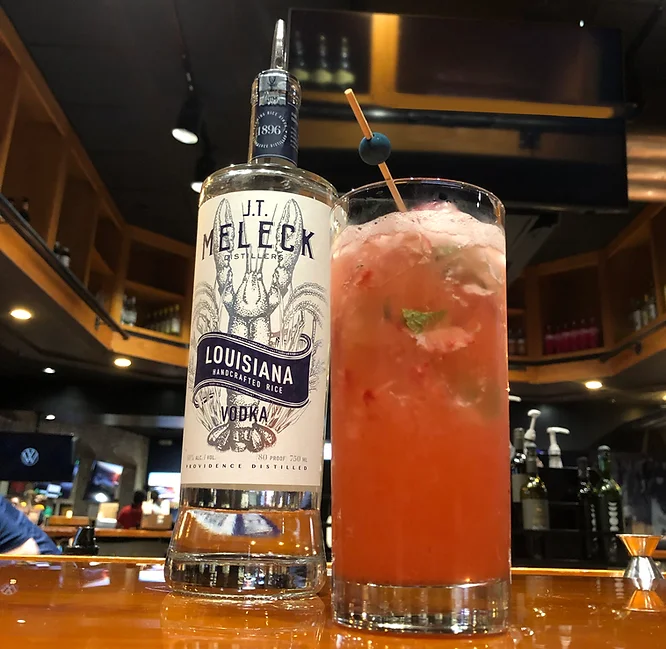 Smoother Operator cocktail
There's nothing quite like the fruity taste of strawberries and the strawberry puree in this cocktail adds a burst of fun summer flavor. Lemonade provides the perfect tang and mint leaves add a cool finish to every sip of this summertime treat.
We always recommend using fresh ingredients, so when strawberries are in season (especially Louisiana strawberries!) you'll definitely want to use those!
With all of our cocktail recipes, we love using JT Meleck Vodka because of its sweet, smooth taste. Especially when mixing with fruits that have light flavor notes, using the dangerously smooth JT Meleck Vodka is a must if you want a drink that goes down easy.
Be sure to check out our video of the drink being made at a local Lafayette restaurant!
Smooth Operator Ingredients
Smooth Operator Directions
In a glass, muddle fresh strawberry, mint leaves, and simple syrup.
Add JT Meleck Vodka and strawberry puree.
Shake well for approximately 10 seconds.
Pour the strawberry mixture into a serving glass with ice and top with lemonade.
Garnish with another strawberry or any garnish of your choice.