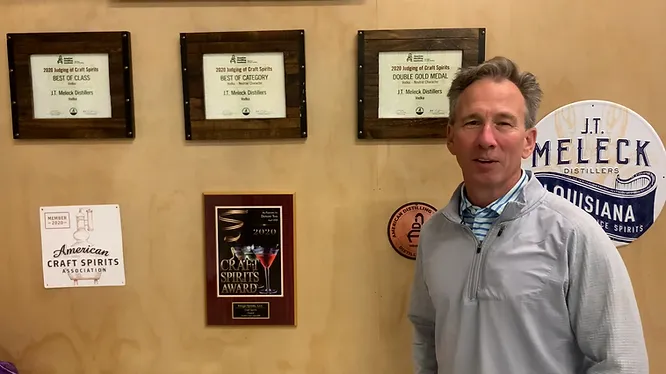 The 2020 American Distilling Institute's (ADI) Judging of Craft Spirits took place in the San Francisco Bay Area and saw 11 pallets of some of the world's best craft spirits entered to win one of five top awards. During the competition, 45 experts in distilled spirits conducted blind taste tests and provided feedback on the spirits.
Among the nearly 1,000 spirits entered into the competition was our very own Louisiana rice vodka. We are proud to have taken home three awards for our vodka, Best of Category, Best of Class, and Double Gold, and we look forward to sharing our award-winning spirit with vodka lovers throughout the state.
JT Meleck Louisiana Rice Vodka is a handcrafted spirit made from rice grown on the Fruge family farm in Branch, Louisiana. The distillery is located on the same family farm and traces its roots back to 1896 when the first rice crop was planted by Founder Mike Fruge's great, great uncle.
The Louisiana vodka made from rice is unique among American spirits that are more traditionally distilled from corn. The vodka is often described as having an amazing level of complexity with a slight vanilla note and an ultra smooth finish.
Check out our awards for yourself when you try a bottle of JT Meleck Vodka! The awards are featured on the bottle's necker.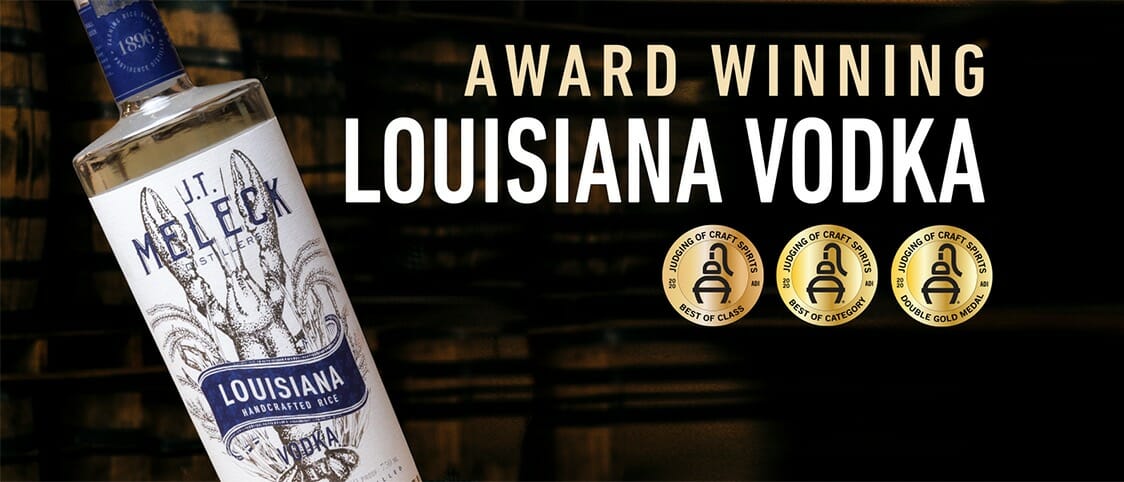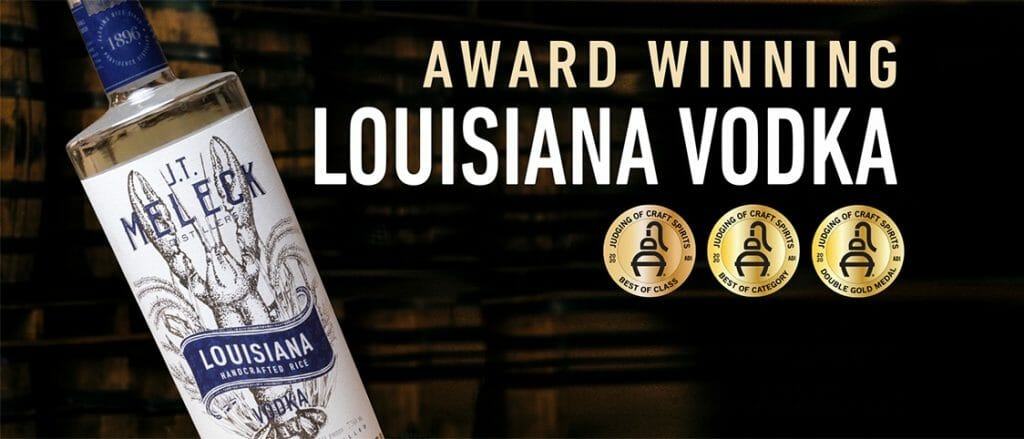 JT Meleck Louisiana Rice Vodka: Best of Category Award
Among the competition were other neutral character vodkas. According to the Legal Information Institute, "a neutral character vodka is a distilled spirit produced from any material at or above 190° proof, and, if bottled, bottled at not less than 80° proof." A neutral spirit will be without distinctive character, aroma, taste, and color.
JT Meleck Louisiana Rice Vodka: Best of Class Award
A Best of Class designation is awarded to a spirit identified by the ADI panel of judges as being the best example of its particular spirit class, such as best whiskey, best brandy, best vodka, etc. The Best of Class honor is the highest level of recognition awarded by ADI; before a spirit can be eligible for a Best of Class award, it must first be awarded both a gold or double-gold medal and must be recognized as a "Best of Category" spirit.
JT Meleck Louisiana Rice Vodka: Double Gold Award
Spirits that are awarded a medal by ADI will fall into one of four tiers: bronze, silver, gold, or double gold. A Double Gold is the highest achievement among these tiers. The Double Gold designation given to JT Meleck Louisiana Rice Vodka signifies that the vodka is considered the best it can be.
More About the American Distilling Institute (ADI) and the Judging of Craft Spirits Competition
The American Distilling Institute is the oldest and largest trade association dedicated to craft distilling in the world. The association held its first annual Judging of Craft Spirits in 2007.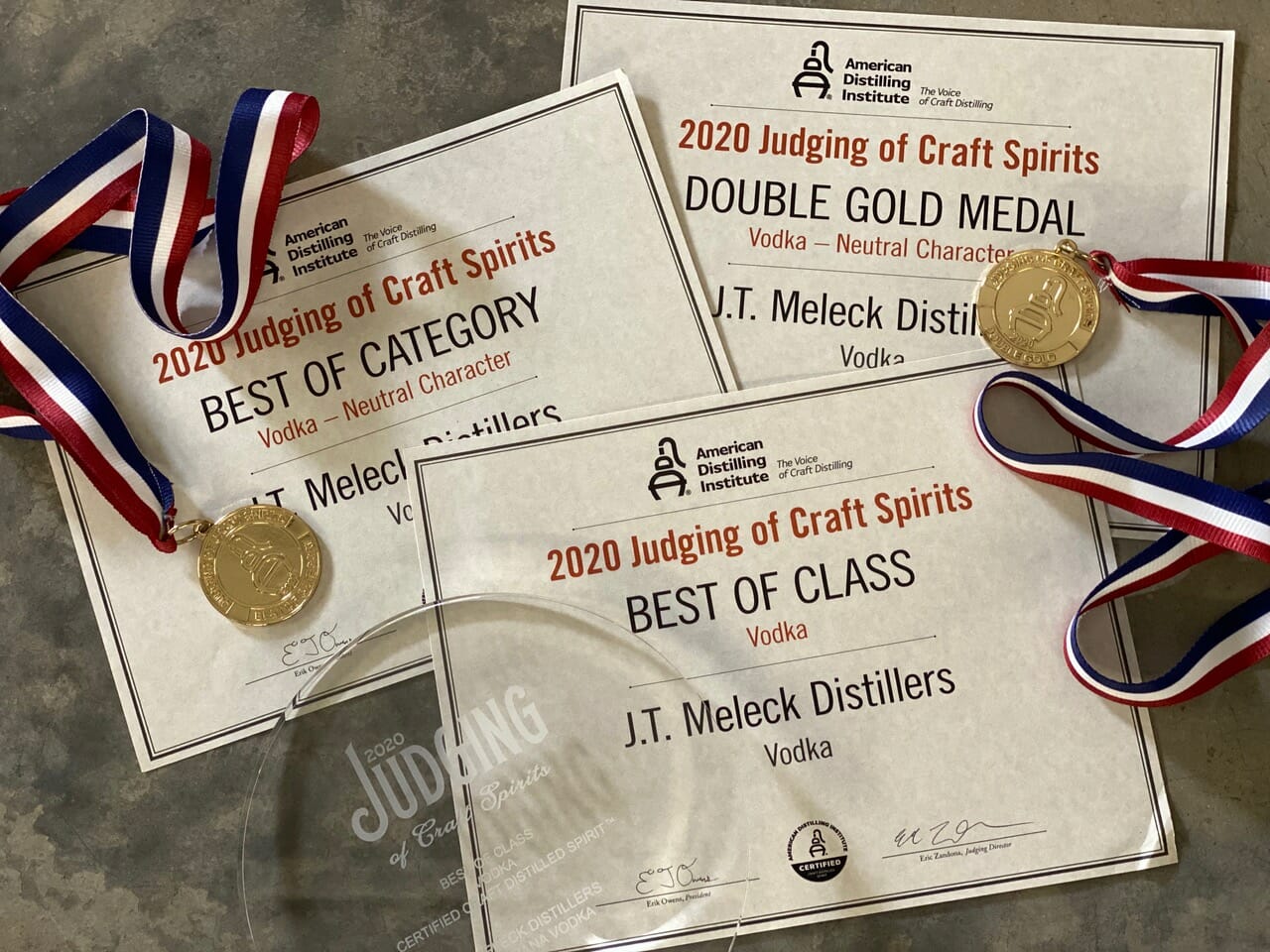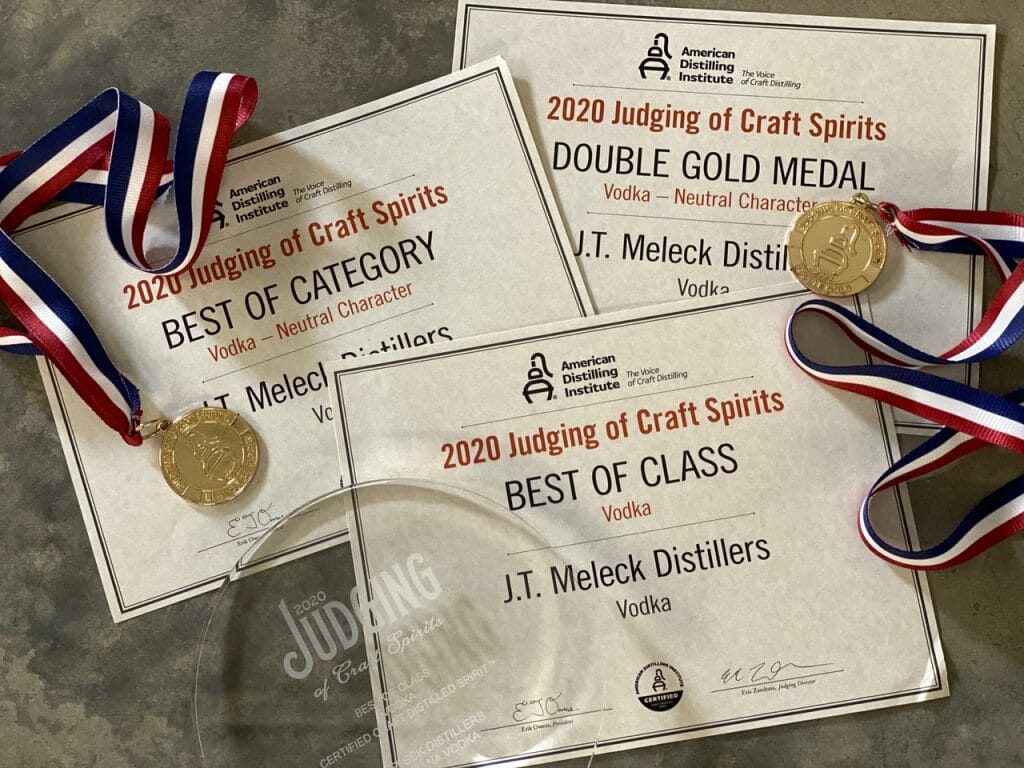 The competition was developed to award excellence in distilling and provide feedback from expert judges on every spirit entered. According to ADI, the craft competition seeks to recognize "…excellence in the glass; promote distillers and blenders that produce the world's finest quality artisan spirits; and give participating producers valuable, unbiased, third-party feedback on the quality and process of their spirits."
Spirits entered into the competition are judged by 45 top experts in the field over the course of three days. Judging days are divided into morning and afternoon sessions; during each session, flights are organized into lighter spirits, which include clear spirits with lighter aromas and tastes and heavier spirits, which include oak-matured, flavored, spiced, smoked, and hopped or sweetened spirits. Each flight is blind judged by a panel of at least four judges and generally consists of experts including distillers, wholesalers, importers, and bartenders which represent a wide variety of different background experience in the industry and allows ADI to provide the best possible feedback to entrants.