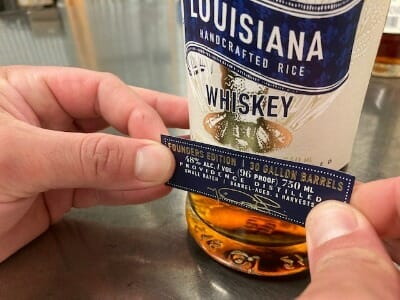 What: J.T. Meleck Distillery has been aging rice whiskey in 30-gallon oak barrels for more than four years. The founder's edition small batch of 934 bottles of Louisiana-made whiskey is set to coincide with the 2021 holiday season. The whiskey is expected to sell out. However, more will be available late spring 2022. (Plus, J.T. Meleck Vodka is in full supply.)
J.T. Meleck's Michael Frugé will be available for interviews.
WHO: J.T. Meleck Distillery
WHEN: First bottles of J.T. Meleck Whiskey set for delivery to Louisiana retailers Thanksgiving week (dates may vary)
WHERE: To see where the J.T. Meleck is for sale, click here: https://www.jtmeleck.net/jtwhiskey
Media is invited to schedule visits to the distillery. Contact Joelle Polisky to schedule: 615-516-0358 or [email protected]
About J.T. Meleck Distillers
One family. One farm. One great idea. It began in 1896 when J.T. Meleck had the crazy idea to grow rice on 20 acres of marshland in South Louisiana. Against the odds, the name J.T. Meleck became synonymous with Louisiana rice, but to us he is great, great Uncle John. Four generations later we still grow rice, and now crawfish, on the same 20 acres as our Uncle John. We've grown since then, but we are still as connected to the dirt as J.T. Meleck was. A few years ago, Michael Frugé began thinking: What if we could make a great spirit from our rice? It would make our Uncle John proud. The result is something truly special, born right here on our farm, just off Highway 35 in Branch, Louisiana. We´re proud to take our rice from grain to glass. We work the dirt and grow the seed, just like Uncle John did. That's why we've named it J.T. Meleck. Because our crazy idea has managed to create new Louisiana classics that go straight from our farm to your front porch.