Yes, you read correctly! J.T. Meleck Distillers, a grain-to-bottle distillery located in South Louisiana, is making it's debut in the Texas market.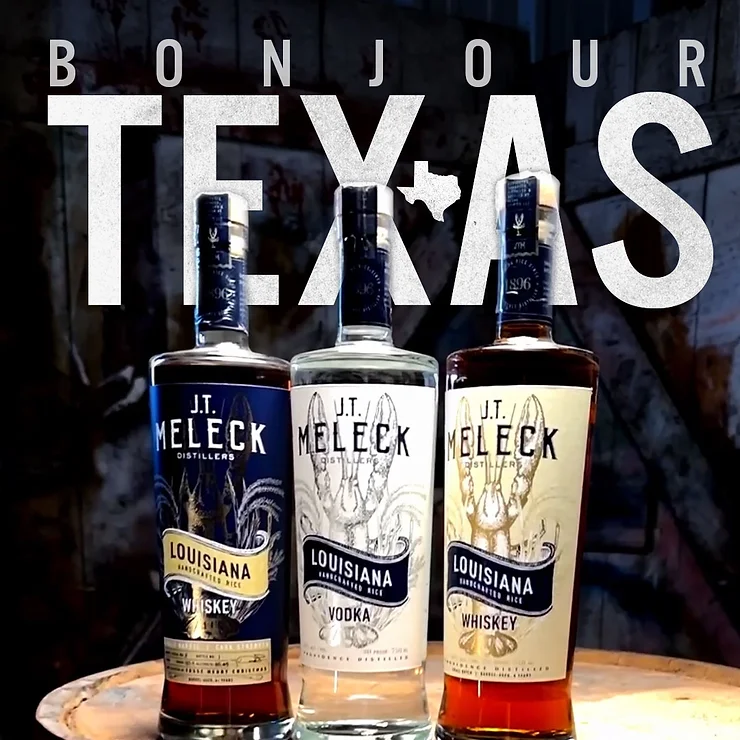 What started as a way to add value to our rice crop turned into something far more than we imagined: national recognition. Fans have been 'Living Their Lifestyle with J.T. Meleck' in Louisiana since 2018, but recently we have had an overflow of interest throughout the country to add J.T. Meleck rice spirits to their way of living!
Due to this exciting news, J.T. Meleck Distillers will be partnering with Goody Goody Liquor to bring our award-winning rice spirits to the DFW, Houston and Longview markets. See below for a full list of locations.
Do you live outside of Louisiana and Texas, but still want some J.T. Meleck in your life? Get our rice spirits delivered directly to your door through Bourbon Outfitters: https://bourbonoutfitter.com/collections/jt-meleck-distillers.
We couldn't do any of this without our fans! Thank you for the continued support and sharing our spirits with friends and family!
Locations for the 24 Goody Goody Locations are as follows:
10301 Harry Hines, Dallas, 75220
7124 Greenville, Dallas, 75231
3500 Lakeview Pkwy #100, Rowlett, 75088
7729 Garland Road, Dallas, TX 75218
14851 Inwood, Addison, 75001
5285 Hwy 121, The Colony, 75056
1950 FM 407 E., Highland Village, 75077
104 N. Stemmons, Lake Dallas, 75065
3316 Oak Lawn Ave., Dallas, 75219
103 FM 423, Little Elm, 75068
6393 Camp Bowie, Fort Worth, 76116
824 S. Central, Anna, 75409
4701 Colleyville Blvd, Colleyville, 76034
3340 W. Royal Lane, Irving, 75063
1612 Airport Freeway, Bedford, 76022
700 S. Main St. Keller, 76248
2680 Highway 6 South, Houston, 77082
22296 Market Place Dr, New Caney 77357
1302 W. Loop 281, Longview, 75604
1401 W. Marshall Ave, Longview, 75604
904 E. Cotton St, Longview, 75602
600 E. Marshall Ave, Longview, 75601
4697 Estes Pkwy, Longview, 75603
1101 W. Cotton St., Longview, 75604