The spirit of Louisiana is a sum of the many things Cajuns are known for around the world, including vodka and Louisiana whiskey.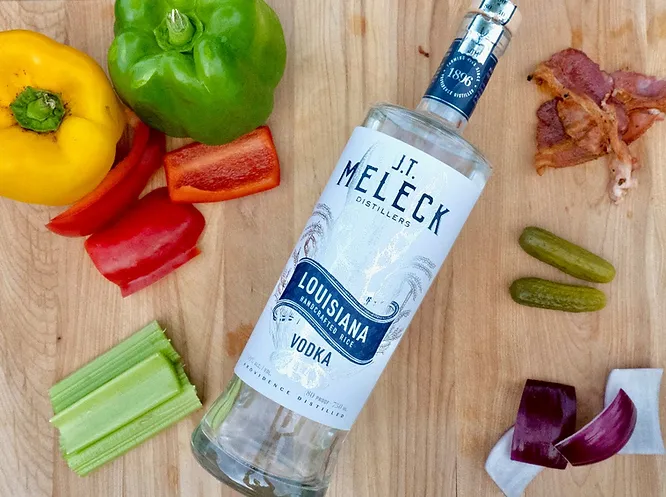 The Spirit of Louisiana goes great with everything!
In South Louisiana, our culture is influenced by a rich history and an easy-going way of life. After being exiled from present-day Nova Scotia during Le Grand Dérangement which took place between 1755 and 1764, our ancestors found themselves in a land much different from the one they knew.
The Spirit of Louisiana is One of Resilience, Resourcefulness, and Enjoyment.
This new land would later become the state of Louisiana, and thriving here back then and now requires resilience, resourcefulness, and the ability to enjoy yourself through the journey of life. These three traits are what the spirit of Louisiana is made of today.
In the face of extreme weather including brutal humidity, scorching summers, and frequent hurricanes, you're likely to find us going about our business relatively undisturbed. We love pressing forward through difficult times because we know great things can come from being resilient and overcoming challenges.
A Unique Maker of Louisiana Spirits
At JT Meleck Distillers, we like to think of ourselves as part of the spirit of Louisiana. Our Louisiana spirits are made from rice that we grow, harvest, and distill to create a premium, award-winning Louisiana vodka, and soon, a Louisiana whiskey.
The history of JT Meleck is one of resilience. Back in 1896, our great, great uncle JT migrated down to Louisiana and settled in an area known today as Branch. Back then, there was no drainage, so marshland was what Uncle JT had to work with and on it he persevered to grow his first crop of Providence rice. Today, rice is a major crop in South Louisiana, and it's one of many bayou products people enjoy all around the world produced in Louisiana. We think our great, great uncle would be proud that today, his style of rice is being grown to make Louisiana spirits.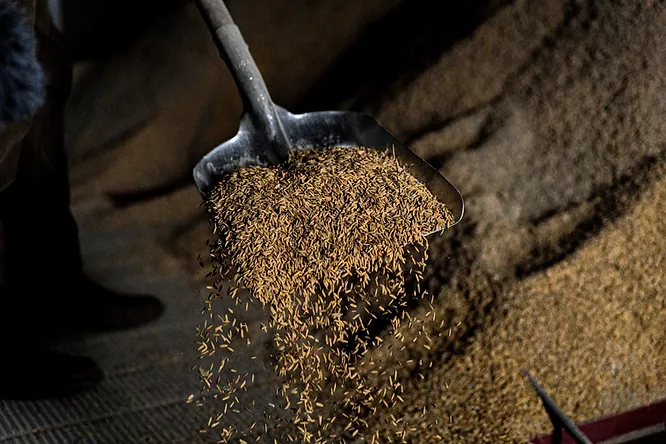 We still grow the same style of rice our great great uncle JT grew back in 1896
Our Louisiana spirits distillery was born out of a need to be more resourceful with the abundance of rice we grow. As with many crops in America today, the prices that a farmer can charge for his product is extremely low, making it difficult for many farms to remain profitable. This is what led JT Meleck Distillers founder Mike Fruge to ask, "I wonder if we can use rice to make vodka?" It turns out, you can! While we are one of a handful of Louisiana distilleries, we are the only Louisiana spirits distillery making spirits from rice.
A Cut Above Among Many Bayou Products
Other bayou products from Louisiana distilleries include spirits made from sugarcane and craft beer brewed in a number of towns and cities throughout Louisiana. We like most of the Louisiana spirits we've tried, but there's nothing quite like the soft, sweet, vanilla notes our rice imparts on our vodka and Louisiana whiskey.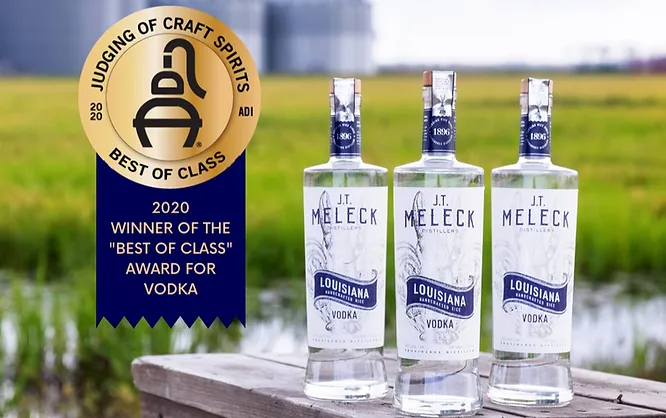 Our vodka is an award-winning Louisiana spirit.
Enjoying ourselves is what we do best in Louisiana, and we have a special saying for it: "Laissez les bon temps rouler" which is French for "Let the good times roll!" If there is any saying that embodies what the spirit of Louisiana is all about, it's this. From festivals, crawfish boils, and fais do-do's to Mardi Gras in the Big Easy and the Courir de Mardi Gras in the nearby town of Church Point, JT Meleck Louisiana spirits go great with everything!